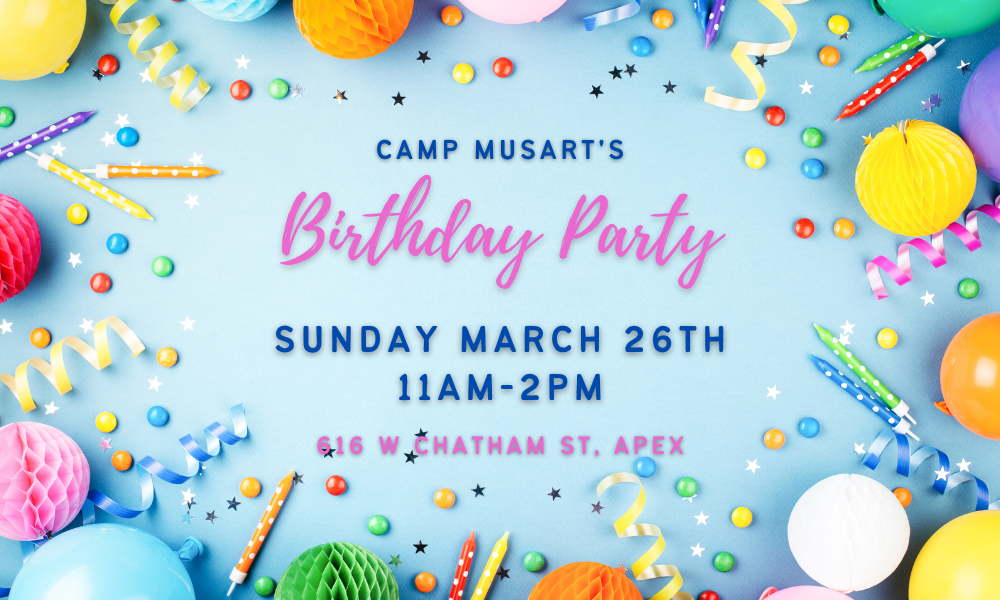 Camp MusArt Carnival
Last year, Camp MusArt held its first-ever Birthday Carnival to celebrate its 13th anniversary. It was a huge success, and we were so happy to celebrate the camp with our biggest supporters by our side. So, to celebrate our upcoming 14th anniversary, we're hosting a carnival that's even bigger and better! Join us on March 26th from 11 AM to 2 PM for games, crafts, fresh food, live music, and more. The carnival will be open to all, including those who have never attended Camp MusArt. In fact, we highly encourage newcomers to attend and learn more about what we offer.
For this year's carnival, we've brought back old activities and added plenty of new ones. We will have our karaoke station from last year, where parents and kids can sing their hearts out to their favorite songs. We will also be preparing balloon animals and hats for people to wear again!
We've also got plenty of new crafts in store for this year's carnival. At our watercolor resist station, kids will get to color a birthday-themed drawing with crayons and paint over it with watercolors. This unusual technique will not only create a unique work of art, but it will also help kids understand the properties of wax and water and why the two repel each other. While this craft emphasizes the science behind art, our maraca shaker craft will focus on the connection between music and art. Here, kids can make and customize their very own maracas using plastic eggs and rice.
Outside of crafts, there's still more to experience. Kids can access our prize wheel and pancake art station, which is run by our professional pastry chef and contains an array of bright colors and fun designs for everyone to enjoy! Kids can also have their faces painted as a unicorn, alien, or anything else they desire by Mimi the Clown, who will be at the carnival until 1:30 PM.
Although the event is free, families may have to purchase tickets to gain access to certain activities. The ticket prices are as follows: $5 for 5 tickets, $20 for 25 tickets, and $35 for 50 tickets. Tickets can be purchased on the day of the event with cash or through payment apps like Venmo. Please note that credit/debit cards will not be accepted.
We will also be selling a limited number of special raffle tickets starting the week before the Carnival (March 19th - March 25th). These tickets can also be purchased at the carnival. The winner of the raffle, which will be announced at the carnival, will receive one free week of camp with us (see the end of this blog post for more information).
But even without purchasing tickets, there are still plenty of activities for kids to enjoy. Our bubble station and playground, which includes our will be open to all. There will also be three classic carnival games that don't require tickets: ax-throwing, milk-bottle knockdown, and ski ball! Our gymnastics station will also be free to use. Here, kids can practice their handstands and back walkovers under the supervision of an experienced gymnast. Kids will also have access to our brand-new equipment at this station, such as our new balance beam, cheese mat, and trampoline!
Food will also be available to all. El Rey Del Taco, a Mexican food truck typically parked at the Shell gas station near camp, will be serving a variety of tortas (Mexican sandwiches with taco-style fillings), quesadillas, and burritos. Their kid-friendly options make their truck good for both children and adults. There will also be a cake-cutting ceremony at 1:30 PM, because any birthday celebration would be incomplete without cake!
As for entertainment, there will be a "pint-sized" pasture with all types of miniature animals for people to pet and feed (like mini-pigs, mini-cows, mini-goats, and mini-horses, just to name a few). There will also be a live performance from 1 PM to 2 PM by the band WHOOP, whose lead singer, Fallon, is a part of our staff here at Camp MusArt! They've prepared a special acoustic set for our carnival, so be sure to stick around until then.
Camp MusArt is extremely thankful for the support we have received these last 14 years and we hope you can take the time to celebrate with us on the 26th! To stay updated on the carnival and future events, you can follow us on Instagram and Facebook.
Starting this week, you can purchase your raffle tickets by contacting us via phone (919-267-5509) or email (contact@campmusart.com). There are a limited number of tickets, so be sure to buy them as soon as you can!