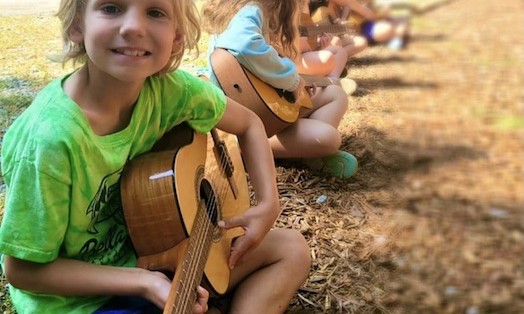 Music at Camp MusArt
Music at Camp MusArt
Music is beneficial to all of us, and especially so for young kids. Not only does it have many cognitive benefits, but it also serves as a creative and expressive outlet for children. At Camp MusArt, our goal in the music department is to provide our children with a foundation to grow their love for music. In some cases, our job is to plant the seed for them to begin their journey in music, and in others our job is to water that seed so they can nurture an existing love for music and watch it grow. Some children will come to us never having touched an instrument before, and some will come to us with a few years of experience. We recognize that for those who are new to music, it can be difficult to start learning a new instrument, especially in a group setting or with an unfamiliar teacher. At Camp MusArt, we hope to alleviate this stress by cultivating a judgment-free and collaborative environment where our campers can become passionate about music.
Currently, we offer classes on eight different instruments: piano, guitar, ukulele, recorder, drums, violin, viola, bass, cello, and voice. Campers will have an opportunity to rotate through a variety of classes every week that allow them to learn every instrument in either a group setting or through one-on-one instruction. The Camp MusArt music department takes a Suzuki-based approach to teaching music, focusing on repetition of sounds, and utilizing teaching tools that enable our students to play a variety of notes on various instruments, even if they cannot yet read music. We focus on building their musical skills through encouragement, group performances, and exposure to various musical works.
Camp MusArt also recognizes the importance of teaching note reading to children and the value of a more traditional approach to learning music, especially as the difficulty level of the music increases. Our uniquely developed and well-rounded approach allows children to feel that instant gratification of making music on their first day, while also developing essential skills over time such as reading music, which is the musical gift that keeps on giving.
Our hybrid approach to learning music allows our instructors the freedom to choose how they will structure their lessons, what basic skills they want to teach, and what songs they want the kids to learn. With this flexibility, our instructors can teach instruments in a non-traditional and interactive way that deviates from school curriculums and private lessons. Some might focus on teaching the chords to a popular song, while others may focus on practicing simple rhythms and playing games to help the kids remember them. At Camp MusArt our objective is to create a positive and low-pressure environment that makes learning music fun!
Regardless of how our teachers choose to approach their lesson plans, our music department staff all share one common goal: to prepare the campers for our end-of week-recital. Parents and other loved ones are all invited to come and watch their children play drums, violin, guitar, ukulele, piano, and perform a song and dance. The songs we showcase on our weekly recitals are centered around our weekly camp themes, which often focus on a specific country or culture. Selecting new themes every week also means every recital will feature new and different songs, creating constant variety and challenge for our campers who return week after week, and year after year. For many campers, this culminating event is a great way to show off their hard work and showcase their skills, so we encourage all parents to attend if they can.
In addition to our goal oriented and structured music classes, we also offer a musical exploration class that allows children to explore various instruments outside of mainstream western culture in a more creative way. Some of the instruments featured in our instrument exploration class include kalimba, harp, synthesizer, steel drums, and much more. Incorporating these instruments into our weekly rotation allows the children to explore their creative side by experimenting with many different sounds.

Whether your child is brand new to music, or a well-seasoned instrumentalist, the Camp MusArt music program is a well-versed and enriching experience that has something to offer to all children interested in music. If your child is on track-out, out of school for the summer, or just has a day off school and is interested in learning music with us, sign up for one of our camps here!